Abteilung Psychologische Diagnostik und Differentielle Psychologie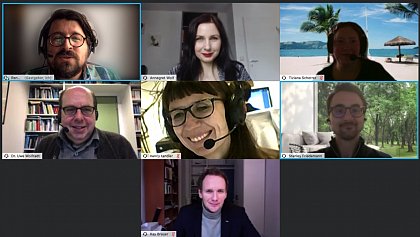 Aufgabe der psychologischen Diagnostik ist es, interindividuelle Unterschiede sowie intraindividuelle Veränderungen menschlichen Verhaltens und Erlebens zuverlässig so zu erfassen, dass Aussagen über zukünftiges Verhalten und Erleben, sowie zu erwartende Veränderungen in definierten Situationen möglich werden. Ziel dieser Bemühungen ist es, bei unterschiedlichen Handlungs- und Behandlungsmöglichkeiten wissenschaftlich fundierte Entscheidungshilfen bereitszustellen.
Die Differentielle Psychologie befasst sich mit der Beschreibung der Unterschiedlichkeiten und Besonderheiten von Individuen hinsichtlich ihrer Fähigkeiten, ihres Verhaltens, Erlebens, Handelns, und ihrer Entwicklung, sowie mit deren Erklärung durch biologische und soziale Einflüsse.
Aktuelle Publikationen des Lehrstuhls (Auswahl)
Barabadi, E., Brauer, K., Proyer, R. T., & Tabar, M. R. (in press). Examining the role of gelotophobia for willingness to communicate and second language achievement using self- and teacher ratings. Current Psychology. doi:10.1007/s12144-021-01846-w
Brauer, K., Friedemann, S. F., Chick, G., & Proyer, R. T. (in press). "Play with me, darling!" Testing the associations between adult playfulness and indicators of sexuality. The Journal of Sex Research.
Brauer, K., & Proyer, R. T. (in press). The fear of being laughed at (gelotophobia) in adults and children: Testing trait-congruent false memories in the Deese-Roediger-McDermott paradigm. Humor: International Journal of Humor Research.
Brauer, K., Sendatzki, R., & Proyer, R. T. (in press). A primer on studying effects of relationship duration in dyadic research: Contrasting cross-sectional and longitudinal approaches. Journal of Social and Personal Relationships. doi:10.1177/02654075221074677
Brauer, K., Sendatzki, R., Scherrer, T., Chick, G., & Proyer, R. T. (in press). Revisiting adult playfulness and relationship satisfaction: APIM analyses of middle-aged and older couples. International Journal of Applied Positive Psychology. doi:10.1007/s41042-021-00058-8
Gander, F., Proyer, R. T., & Ruch, W. (in press). Do beliefs in the malleability of well-being affect the efficacy of positive psychology interventions? Results of a randomized placebo-controlled trial. Applied Psychology: Health and Well-Being. doi:10.1111/aphw.12338
Kretzschmar, A., Wagner, L., Gander, F., Hofmann, J., Proyer, R. T., & Ruch, W. (in press). Character strengths and fluid intelligence. Journal of Personality. doi:10.1111/jopy.12715
Yik, M., Mues, C., Sze, I. N. L., Kuppens, P., Tuerlinckx, F., De Roover, K., Kwok, F. H. C., Schwartz, S. H., … Proyer, R. T., …, Russell, J. A. (in press). On the relationship between valence and arousal in samples across the globe. Emotion.
Barabadi, E., Elahi Shirvan M., Shahnama M., & Proyer, R. T. (2022). Perceived functions of playfulness in adult EFL learners: An exploratory study. Frontiers in Psychology, 12, 823123. doi:10.3389/fpsyg.2021.823123
Brauer, K., & Proyer, R. T. (2022). The Impostor Phenomenon and causal attributions of positive feedback on intelligence tests. Personality and Individual Differences, 194, 111663. doi:10.1016/j.paid.2022.111663
Brauer, K., Sendatzki, R., & Proyer, R. T. (2022). Localizing gelotophobia, gelotophilia, and katagelasticism in domains and facets of maladaptive personality traits: A multi-study report using self- and informant ratings. Journal of Research in Personality, 98, 104224. doi:10.1016/j.jrp.2022.104224
Brauer, K., Sendatzki, R., & Proyer, R. T. (2022). Verspieltheit im Erwachsenenalter: Eine Übersicht. Report Psychologie, 47(2), 2-4.
Ruch, W. & Proyer, R. T. (2022). Stärkenorientierte Ansätze. In R. Frank & C. Flückiger (Hrsg.), Therapieziel Wohlbefinden (S. 193-204, 4. Aufl.). Springer. https://doi.org/10.1007/978-3-662-63821-7_13
Hinweise zur Lehre
FAQ zur Modulpruefung Differentielle Psychologie
Modulpru fungDifferentiellePsychologie.pdf (69,2 KB) vom 25.04.2016
---
---