Abteilung Psychologische Diagnostik und Differentielle Psychologie
Informationen zur Lehre im Wintersemester 2021/22
Bitte beachten Sie die Hinweise zur Lehre unserer Abteilung im Wintersemester 2021/22. Im unten stehenden Dokument finden Sie allgemeine Hinweise und eine Übersicht zu den Lehrveranstaltungen im kommenden Semester.
Diagnostik_Planung_Lehre_WS21_22.pdf (191 KB) vom 30.09.2021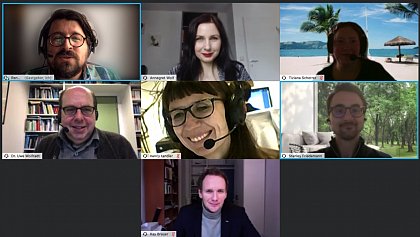 Aufgabe der psychologischen Diagnostik ist es, interindividuelle Unterschiede sowie intraindividuelle Veränderungen menschlichen Verhaltens und Erlebens zuverlässig so zu erfassen, dass Aussagen über zukünftiges Verhalten und Erleben, sowie zu erwartende Veränderungen in definierten Situationen möglich werden. Ziel dieser Bemühungen ist es, bei unterschiedlichen Handlungs- und Behandlungsmöglichkeiten wissenschaftlich fundierte Entscheidungshilfen bereitszustellen.
Die Differentielle Psychologie befasst sich mit der Beschreibung der Unterschiedlichkeiten und Besonderheiten von Individuen hinsichtlich ihrer Fähigkeiten, ihres Verhaltens, Erlebens, Handelns, und ihrer Entwicklung, sowie mit deren Erklärung durch biologische und soziale Einflüsse.
Aktuelle Publikationen des Lehrstuhls (Auswahl)
Barabadi, E., Brauer, K., Proyer, R. T., & Tabar, M. R. (in press). Examining the role of gelotophobia for willingness to communicate and second language achievement using self- and teacher ratings. Current Psychology. doi:10.1007/s12144-021-01846-w
Brauer, K., Sendatzki, R., Scherrer, T., Chick, G., & Proyer, R. T. (in press). Revisiting adult playfulness and relationship satisfaction: APIM analyses of middle-aged and older couples. International Journal of Applied Positive Psychology. doi:10.1007/s41042-021-00058-8
Brauer, K., & Proyer, R. T. (2022). Technical comment on Rolón, V., Geher, G., Link, J., and Mackiel, C. (2021). Personality correlates of COVID-19 infection proclivity: Extraversion kills. Personality and Individual Differences, 180, 110994. Personality and Individual Differences, 185, 111292. doi:10.1016/j.paid.202.111292 (kostenfreier Abruf bis November )
Brauer, K., & Proyer, R. T. (2021). Analyzing a German-language Expanded form of the PhoPhiKat-45: Psychometric properties, factorial structure, measurement invariance with the Likert-version, and self-peer convergence. Journal of Personality Assessment, 103, 267-277. doi:10.1080/00223891.2020.1720699
Brauer, K., Proyer, R. T., & Chick, G. (2021). Adult playfulness: An update on an understudied individual differences variable and its role in romantic life. Social and Personality Psychology Compass, 15, e12589. doi:10.1111/spc3.12589
Brauer, K., Proyer, R. T., Greiff, S., Brown, A., Gander, F., Münscher, J.-C., Realo, A., Rivera, D., Rossier, J., & Wagner, L. (2021). Planning a career in psychological assessment: Lessons learned from the EAPA Winter School 2021. European Journal of Psychological Assessment, 37, 261-265. doi:10.1027/1015-5759/a000666
Brauer, K., & Ranger, J. (2021). Determining the number of factors in exploratory factor analyis - The performance of tests of relative model fit. Psychological Test and Assessment Modeling, 63, 45-64.
Brauer, K., Scherrer, T., & Proyer, R. T. (2021). Testing the associations between adult playfulness and sensation seeking: A SEM analysis of librarians and police officers. Frontiers in Psychology, 12. doi:10.3389/fpsyg.2021.667165
Brauer, K., Sendatzki, R., & Proyer, R. T. (2021). Testing the associations between dispositions toward ridicule and being laughed at and romantic jealousy in couples: An APIM analysis. Journal of Personality, 89, 883-898. doi:10.1111/jopy.12621
Proyer, R. T., Gander, F., Brauer, K., & Chick, G. (2021). Can playfulness be stimulated? A randomised placebo-controlled online playfulness intervention study on effects on trait playfulness, well-being, and depression. Applied Psychology: Health and Well-Being, 13, 129-151. doi:10.1111/aphw.12220
Tandler, N., Krüger, M., & Petersen, L.-E. (2021). Better battles by a self-compassionate partner? The mediating role of personal conflict resolution styles in the association between self-compassion and satisfaction in romantic relationships. Journal of Individual Differences, 42, 91-98. doi:10.1027/1614-0001/a000333
Hinweise zur Lehre
FAQ zur Modulpruefung Differentielle Psychologie
Modulpru fungDifferentiellePsychologie.pdf (69,2 KB) vom 25.04.2016
---
---